28 May, 2018
STS Supplier to Scania
Truck transmissions – an important future market for STS in Stenungsund after the company's appointment as a supplier partner to Scania
STS – Scandinavian Transmission Service AB – in Stenungsund is currently one of Europe's leading companies within the industrial remanufacturing of transmissions and transmission-related components. Every year, approximately 5,000 transmissions and a large number of torque converters are remanufactured for passenger cars. A few years ago, STS also started to plan an investment in remanufacturing services for the truck sector. STS recently experienced a breakthrough in this market when the company was appointed as a supplier partner by truck manufacturer Scania.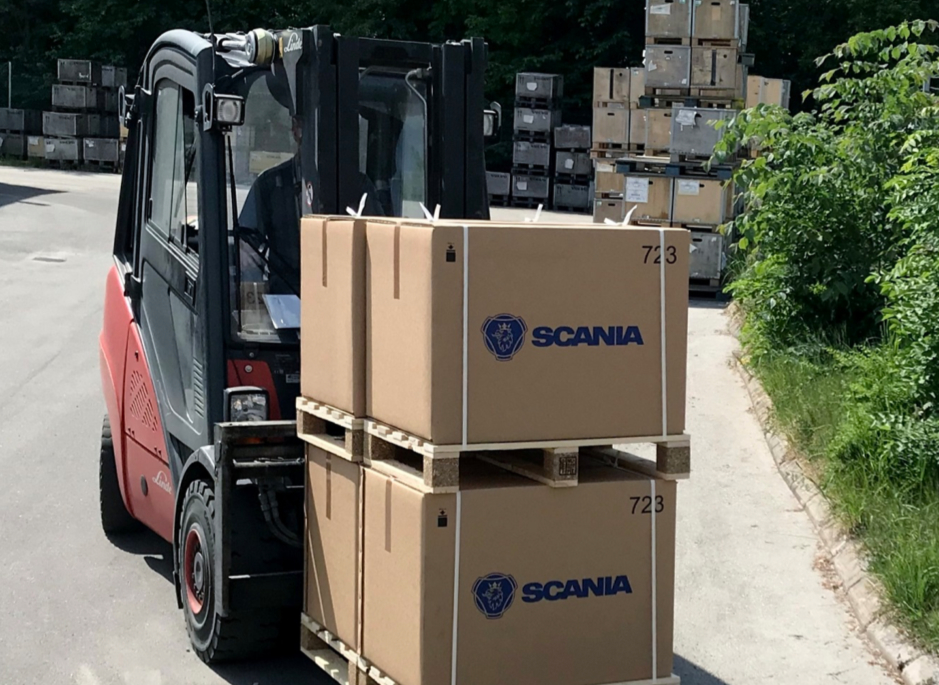 The cooperation means that every year, STS will remanufacture a large number of planetary gears for Scania trucks. A new production and remanufacturing line was rapidly established in Stenungsund, and the first renovated planetary gears were delivered to Scania in April. With the delivery of over 82,000 trucks, 2017 was a record year for world-leading truck manufacturer Scania, a company owned by Volkswagen.
"Innovation and partnership" are key words for many of Scania's development efforts in various areas. They also apply to "Scania Service Exchange", a concept whereby Scania sells remanufactured spare parts. Scania has worked on the service exchange since 1964. The number of spare parts included in the service keeps growing as the principle of a circular economy gains wider recognition within Scania's global organisation.
The extensive knowledge of component manufacturing held by STS' employees is an important factor for Scania.
A considerable number of planetary gears will be remanufactured by STS in Stenungsund every year, adding yet another component to Scania Service Exchange. The device, which is separate from the truck's main transmission, governs the truck driver's access to high and low gears. The planetary gear effectively turns a truck with six driving gears into a truck with twelve gears. There are technical differences compared with the passenger car transmissions remanufactured by STS for many years, but they have one thing in common: the employees who carry out the remanufacturing work must be highly knowledgeable about components.
"We are truly pleased that Scania has entrusted us with this, and the fact that we have been appointed a supplier partner is proof that we are at the forefront from a skills perspective," says Ola Stålebo, CEO of STS. "It has been a long process, and we have engaged a close dialogue with Scania about this cooperation. Scania was extremely meticulous in its evaluation, and the fact that we meet their requirements on supplier quality makes us proud. This has opened up a new market for STS, and we have worked intensively on the construction of a new production plant, including a coating station, for the remanufacturing of planetary gears."
Scania's efforts to integrate planetary gears in the Group's service exchange and appoint a supplier partner for the remanufacturing work have been described as an international project based in Brazil. Scania has extensive operations in Brazil, including truck manufacturing and a technology centre for the development and
including truck manufacturing and a technology centre for the development and testing of new engines. The planetary gears to be remanufactured are initially stored at Scania's logistics centre in Belgium and then transported to STS.
Linda Alexandersson at STS was the project manager during the discussions with Scania. She also had a key role in the establishment of the new production line in Stenungsund.
"The fact that this was run as a global project with Scania's project management team in Brazil was exciting and stimulating for me as a project manager. Starting up an entirely new line of business for the remanufacturing of truck components was challenging, both for me and for the others at STS who were involved in the project. The fact that Scania truly valued our extensive knowledge of components from the passenger car side was encouraging, and it felt truly wonderful when we were able to deliver the first remanufactured planetary gears as planned. For me, this means that my task as a project manager for this specific project has come to an end, and I will miss the close dialogue with the project management team in Brazil," Linda Alexandersson concludes.